Everything about Cogir of Vacaville is meant to grant a fulfilling retirement experience, and this is where our hotel-inspired amenities and services come into play. We ensure nothing but exceptional Independent Living in Solano County, from the cozy senior apartments in Vacaville to the detailed care plans and engaging social activities.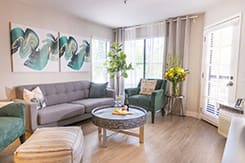 Accommodations and Services
Choose from large studio, or one- or two-bedroom apartments floorplans. All include a patio or balcony, full kitchen, utilities, cable, concierge service, housekeeping and laundry. And we're pet friendly!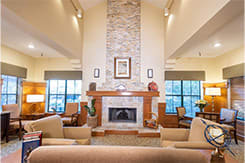 Layout and Amenities
Stroll through the park-like setting complete with courtyard, vineyard, rose garden, pavilion and walking paths. Gather with friends old or new around the piano, or enjoy the fireplace in the library. You'll find complete WiFi coverage in all common areas. Plus, covered parking is available.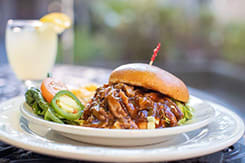 Food Services
Table service is offered all day in our dining room. Or visit the breakfast or soup and salad bar. Our excellent chef offers a choice of farm-fresh, locally-sourced ingredients from a nutritionist-approved menu. Liberalized special diets are also available.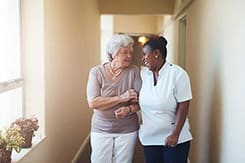 Care and Assistance
Our care services are tailored to changing needs and include transportation to medical appointments, mobility, dining, hygiene and dressing assistance. We also provide medication and incontinence management, as well as diabetes assistance.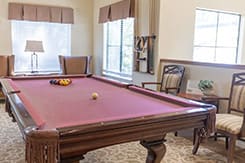 Activities and Leisure
Choose from a variety of scheduled daily onsite activities like puzzles and board games, activity room, billiards, card room, music and film evenings, learning and teaching events. Scheduled bus and van transportation is available, as well as excursions to special community events.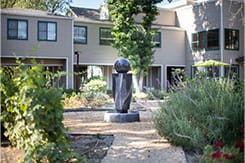 Safe Environment
Resident safety is a top priority. From daily check-ins to an on-site nurse to 24-hour security and emergency response Emergency pendants are available for added security. Every apartment has emergency pull cords. To ensure cleanliness, we exceed all state sanitation guidelines.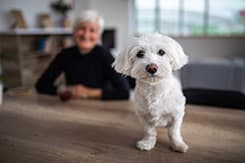 Pet Friendly
A pet's unconditional love brings joy and companionship to the lives of many seniors. Our welcoming pet policy underscores the importance of the strong bond between pets and their owners.
Vacaville Senior Living
Our park-inspired courtyard is lovely for relaxing strolls through the rose garden or chatting with fellow residents in the shade of the pavilion, while the common areas like the activity room and fireplace lounge are great for social gatherings. The dining room awaits each senior with table service and delicious meals that take dietary needs into careful consideration. The beauty salon is there to keep everyone looking their best, and the library grants a quiet place to read. As for our studio, one, and two-bedroom apartments, they are remodeled for a bright, modern feel and come with all utilities included, as well as concierge, housekeeping, and laundry services. All this along with a 24/7 emergency alert system should anything happen.
Our Leisure Town address is another amenity that makes us such a great place for blissful living. The access to I-80 connects us to both Sacramento to the east and San Francisco to the west, ensuring friends and family have an easy time visiting. Pena Adobe Park, Brenden Theatres, Olive Garden, and Nut Tree Plaza are some of the nearby destinations for a fun outing. What's more, we are 5 minutes away from Kaiser Permanente and North Bay Hospital, which means seniors won't be late for their medical appointments - especially since we also offer scheduled transportation for extra convenience.
Call today and ask our dedicated team more about Cogir of Vacaville's award-winning programs. We welcome all seniors into our family, together with their pet friends.
Testimonials
My mom has been living at the Cogir facility, first in independent and more recently in assisted living. There are 3 questions I ask myself to validate whether my mom is in the right place: is she safe, is she loved, is she known. The answer to all 3 is a definite YES! In addition, Assisted Living brings a welcomed level of discipline to her care (medications, health history, support) that I was unable to manage myself. Knowing my mom is at the right place has greatly reduced my own stress too.

- MandarinCircle - Caring.com
My wife and I had the opportunity to visit Cogir of Vacaville and came away very impressed. The grounds and facilities are first class but what most impressed us was the staff. They all seemed very caring with big smiles on their faces- even while always wearing masks! We have visited friends and family at other facilities but the experience was nowhere near what we saw at Cogir of Vacaville.

- John Iavarone - Google
The staff at Cogir of Vacaville Senior Living are all wonderful. They all try to help you in any way they can. They have entertainment once a week, and they have nighttime entertainment for about an hour. It's really nice. We can join them at the barbecue or listen to music, so its very family orientated. We really enjoyed it.

- Anita - Caring.com
Dear Care Givers and Medical staff, we can't thank you enough for all the kindness are care you give to our mom. You are her family. You help her with all her daily needs. We appreciate each and every one of you. You are our heroes!

- Rita
We chose Cogir of Vacaville because of the friendliness of the staff members. I talked to two other facilities but was not ready to move her yet, Cogir was the place that kept in contact with us. Because of the pandemic, they are very proactive about making sure people are not dragging the virus through the facility. It has been super and I would absolutely recommend them.

- Anonymous - SeniorAdvisor.com